Traveling Merchant in Pet Simulator X – WHEN, WHERE, HOW and WHAT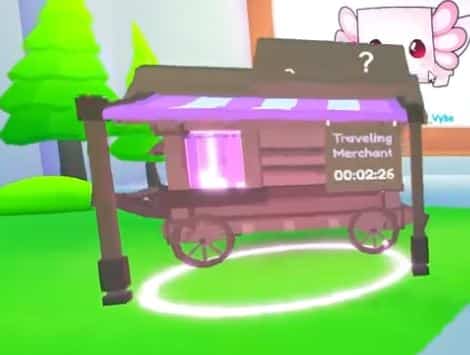 WHEN does the Traveling Merchant come in Pet Simulator X?
The Traveling Merchant spawns once every 50 minutes. When it appears, it will be available for only 10 minutes each time. So as soon as you see the Traveling Merchant, be quick if you want to buy a pet!
WHERE does the Traveling Merchant spawn in Pet Simulator X?
The Traveling Merchant will spawn in either the Shop Biome/area of the Spawn World, or the Trading Plaza. You must pay 1 million diamonds to unlock the Trading Plaza which exists behind the eggs, and near the Dominus Gate, in the Spawn World.
HOW do I know when the Traveling Merchant appears?
When the Traveling Merchant spawns, it will broadcast a chat message "Traveling Merchant has arrived!" on the server. After 10 minutes when it leaves, it will broadcast another message "Traveling Merchant has departed." announcing its departure.
WHAT is the Traveling Merchant in Pet Simulator X?
The Traveling Merchant is a shop that appears for a short while each time and sells pets for diamonds. By buying pets from the Traveling Merchant with diamonds/gems, you don't have to hatch eggs with a small % chance of giving you the pet you want. Instead, you will be sure you are receiving the pet you want as you can buy them with diamonds/gems.
The Traveling Merchant usually sells 3 pets at a time, and there is often little stock of them. So if other players get to the Traveling Merchant before you and buy all the pets, then you are out of luck. You will have to wait for the next time it spawns. Also, these pets will be equal or better than the ones you can hatch. So that is another benefit of buying from the Traveling Merchant.
The pets the Traveling Merchant will sell change from time to time. It usually changes with an update. For example, at the time of this article, the Traveling Merchant sells pets such as Pixel Pink Slime, Pixel Wolf and Pixel Demon. In the previous Axolotl Update it sold pets such as the Hydra Axolotl and Empyrean Axolotl.
How is the Traveling Merchant different to the Mystery Merchant?
There is also another Merchant that sells pets, and it is called the Mystery Merchant. The Mystery Merchant sells pets for a cheaper price than the Traveling Merchant but only appears twice per day. Read all the info about the Mystery Merchant here: