How to Refund Robux from Roblox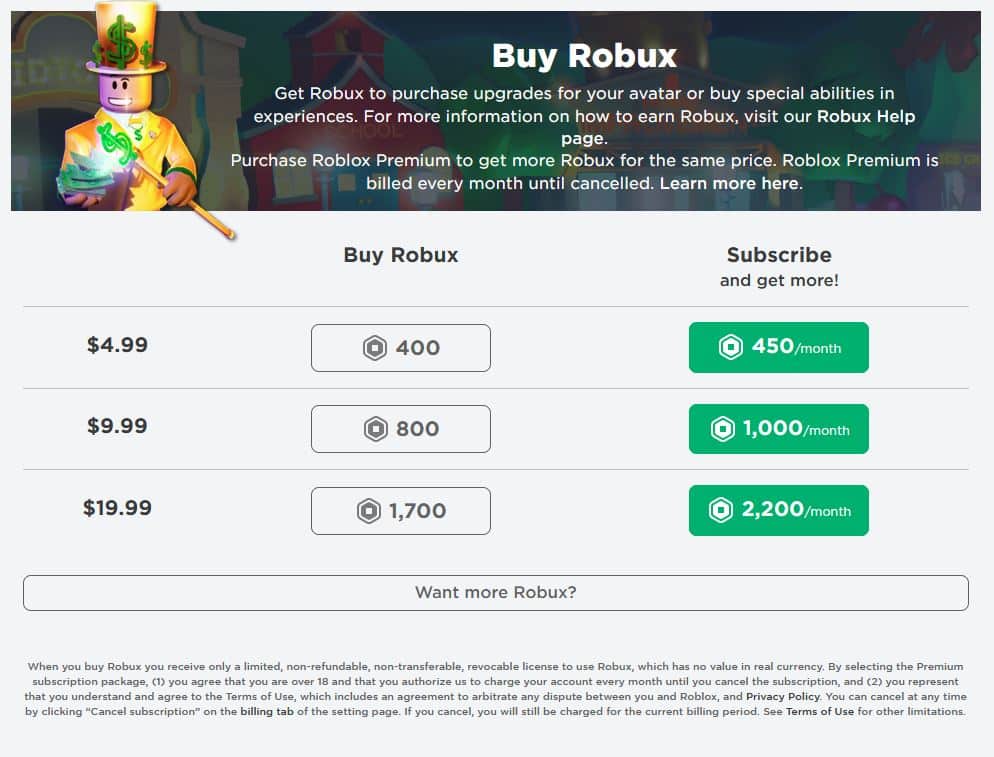 You might have bought Robux to get a cool item in the game, and changed your mind. Or, you might have purchased Robux by accident. Or, someone else has bought Robux using your credit card without your permission. Either way, you will probably be asking the question: "how to get a refund on Robux?"
What are Robux used for?
Robux can be purchased in single amounts (such as 400, 800, etc. Robux) or you can subscribe and get more Robux for your money if you pay monthly. Robux can be used to buy special items in Roblox games. In Pet Simulator X, Robux can unlock special features or items, and can also be used to purchase Exclusive Eggs from the Exclusive Shop. Exclusive Eggs can hatch Exclusive Pets which are usually limited edition and hard to obtain.
Robux Terms and Conditions

On the main page where you buy Robux, it says at the bottom that:
"When you buy Robux you receive only a limited, non-refundable, non-transferable, revocable license to use Robux, which has no value in real currency."
Also on their "Roblox Terms of Use" page, they say that:
"Robux Are Non-Refundable. All payments for Robux are final and not refundable, except as required by law."
Here you will notice that they say that Robux are non-refundable twice. However, that is not 100% true. Because it also says "except as required by law" which means that depending on your country's laws, you may be entitled to a refund which Roblox has to follow.
How to refund Robux if I change my mind?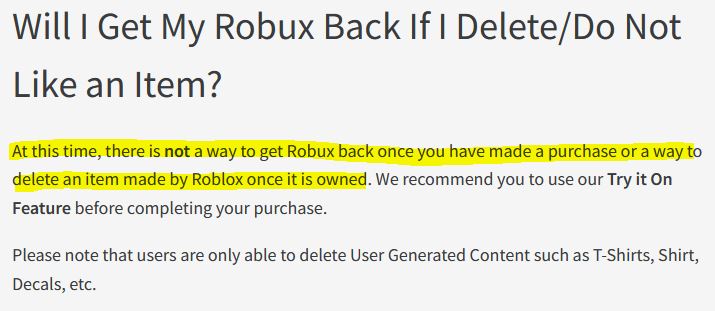 Unfortunately, for a change of mind you cannot get a refund. If you buy Robux to use on an in-game item and don't like the way it looks, then you are out of luck. It is not a valid reason for a refund. See above for the excerpt from the official Roblox Support page, which confirms that no refunds for this situation is allowed.
How to refund Robux if someone else bought it without my permission?
According to the Roblox Support page for Billing, you can report unauthorized charges for investigation and possibly a refund. However, it depends what system those charges come from.
Credit Card, PayPal, and Google Play Purchases

Contact Xsolla's Customer Support team at: https://help.xsolla.com/ if the charge on your statement says "Xsolla*Roblox"
Apple/iTunes, Microsoft Store (Windows App or Xbox), and Amazon Purchases

You will need to contact these separate companies instead of Roblox if the purchase was made through them. They can be contacted below:
In any case, for any unauthorized purchases you will likely have to provide details such as the date and times of the charges, your name, the credit card or payment account used, and so on. You will then have to wait for the company to investigate these unauthorized purchases. It is possible to get a refund on the Robux if the investigation is successful.